Since we all know how much you LOVE DistrictDS with all of your heart, I encourage you to get your LJ skills out and ready for use to spread the word of this lovely little center of the DS.

Here's the code that you can simply copy and paste into your info, or a brand new entry in your very own journal informing people of the glory that is DistrictDS. Just highlight all of the text in the box, go to Edit > Copy on the top bar of your browser, and click on Edit > Paste to place the button where you'd like it.



It should come out looking just like this: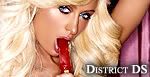 It's cute and petite, so it shouldn't be too much of a bother to use, and plus Paris is a perfect example of DS. If Paris isn't your cup of tea, I'd be glad to make more buttons or whatever. Give me suggestions and it's done.

Just promote! Tell your friends, your family, and every DS you know. They need to be embraced.

Thank you!